Description
The Acoustic Troubadour's Onstage Companion
Plug your acoustic-electric guitar into the Fender Acoustic 100, hit the stage, and enjoy full, natural amplified tone. At Kenny's Music, we've found that this acoustic guitar amplifier is ideal for coffeehouse-style gigs. It accommodates your favorite dynamic vocal mic. You can also stream backing tracks or break music from your Bluetooth-equipped smart device. Create a polished performance with the Acoustic 100's onboard effects and record everything to your laptop via a handy USB jack. When the show's over, an integrated handle makes transportation a piece of cake. The Fender Acoustic 100 acoustic guitar amplifier is housed in an attractive plywood shell.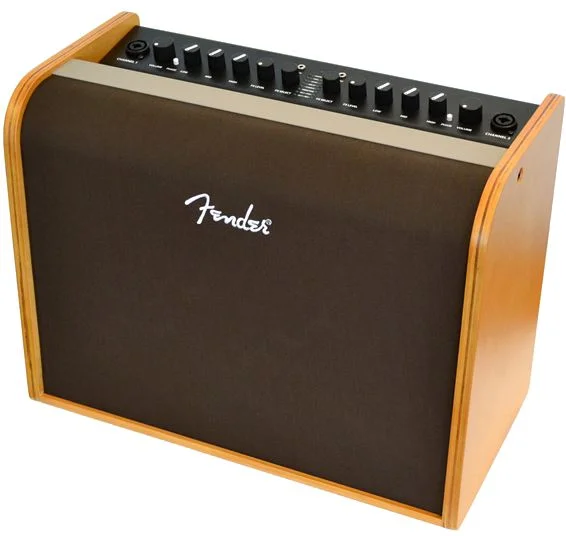 Create a polished performance with onboard effects
Room Reverb
Hall Reverb
Tape Echo
Delay with Repeats
Chorus
Vibratone
Delay + Chorus
Delay + Hall Reverb
Fender Acoustic 100 Acoustic Guitar Amplifier Features:
100W acoustic guitar amplifier with full, natural tone
Great-sounding 8″ full-range whizzer cone speaker
Accommodates an acoustic-electric guitar and dynamic microphone
Stream backing tracks or break music from your Bluetooth-equipped smart device
Create a polished performance with onboard digital effects
USB jack for streaming/recording to a computer
Auxiliary input, XLR line output, and headphone output
Universal voltage operation for global use
Integrated handle for easy transportation
Attractive plywood shell
Tech Specs
Number of Channels:

2

Total Power:

100W

Speakers:

1 x 8″ speaker with whizzer cone

Inputs:

2 x XLR-1/4″ combo (mic/instrument), 1 x aux in

Outputs:

1 x XLR (line out), 1 x headphones

Effects:

Tape Echo, Delay, Chorus, Vibratone

Reverb:

Room, Hall

EQ:

3-band EQ

USB:

Yes (streaming/recording)

Bluetooth:

Yes (audio streaming)

Footswitch I/O:

Yes

Construction Material:

Finished plywood with natural gloss and brown grille cloth

Height:

14″

Width:

18.5″

Depth:

9.25″

Weight:

17.6 lbs.

Manufacturer Part Number:

2314000000
The tone of this amp is amazing! The effects are sweet indeed! I use a yamaha ll6 which has an pasive pickup so at first i was thinking for 100 watts the volume could be better then remembering most active guitars have preamps that boost signal i tryed my tc spark signal booster and couldnt believe the power of this amp! The amp… read more
Outstanding Tone From Fender !!!!
For the last year, I've been using a Fishman Loudbox Mini which I really loved but was limited as far as effects were concerned. So I wanted to make a change and after reading reviews about this amp, I decided to give it a shot. Now some folks have complained about Fender Acoustic amps not being very loud and that is because if your… read more
Not much to say besides that this amp rocks, cleanest of tones. Turn the high, Bass, mid, all in descending order and you"re in heaven. Can't see why you"d need a 200w model, this thing is loud enough already. Haven"t tried with vocals yet. 
Love this amp. Playing in small settings I use this amp for guitar and mic and it works great. I will own the 200 when I can make it happen.
Handy Dandy Fender Friendly Fantastic ! ! !
Acoustic guitar bliss with digital Fender special-effects – designed and built all ergonomically-portable via genius-stealth hidden-infused handle + the added beauty of bluetooth + matches the pianofarm Kitchen piano so perfectly that i sometimes geTheMixed-up. . .but only when we"re alone. . .buThat"s oK. . .in facThat"Sweet as can be… read more